Lone Wolf Exteriors, a contractor based in Lewisville, TX, is working with customers to ensure their windows are as energy efficient as possible. The contractor, which specializes in offering a range of exterior-related services, can help homeowners and businesses determine whether their windows are adequate for their needs. See more here: Window Replacement Dallas.
While many might assume their windows do little more than let sunlight in and provide a view outside, modern windows are designed to provide a few more amenities. For instance, since modern buildings are designed to limit energy transfer between the interior and exterior (trapping heat in the winter and keeping the heat out in the summer), windows play an important role in this process.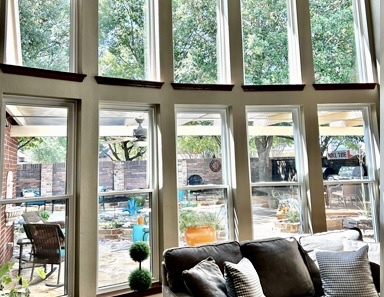 Lone Wolf Exteriors provides windows from premium manufacturers that cater to this goal, so customers may expect their replacement windows to be more energy efficient in addition to being tougher, more aesthetically pleasing and so on. This may have a direct impact on their energy bills (depending on the quality of their previous windows), which is why a replacement is often considered an investment. However, the company points out that energy efficient windows also assist with internal climate control, making homes and other buildings more comfortable for their inhabitants.
The company can replace an entire property's windows if need be. No job is too big or too small, and customers are always welcome to reach out if they wish to discuss the merits of replacing their windows.
Lone Wolf Exteriors has received dozens of reviews from customers who were extremely pleased with their work. In fact the company currently boasts a perfect rating on their Google profile, and many have elected to explain exactly why they were fully satisfied with their decision to work with this particular team of replacement window installers.
A recent piece of feedback from David A. identifies the company's services as, "The very best money my wife and I have ever spent on the house. One of the biggest observations we have noticed is the noise reduction." The customer explains, "our backyard borders up with a thoroughfare through the neighborhood, and vehicle noise was a nuisance, but with the new windows it is a non-factor now. In addition, our back faces the West, and heat has always been an issue. Not anymore. Jacob and CJ have been the best to work with as well."
Customers are also quick to point out that hiring the company is as good as buying peace of mind that their window replacement project is being entrusted to some of the industry's top contractors. "Loved my experience with Lone Wolf," says Monique O. in another review, "and my windows look amazing! They did a total of 21 windows, and the recommendation of the sales agent was outstanding. The job was done in a timely manner, and the team was extremely professional (as I work from home)."
On this note, the company states that customer service has always been a core aspect of their services. Every job they take on, therefore, is carried out with respect to the customer's convenience and requirements. Therefore, regardless of the unique challenges a project may present with, such as unusual scheduling, heavy traffic, unpredictable weather and so on, the team will work closely with the customer to develop a plan of action that causes the least disturbance while they complete their work.
This may be particularly useful to those who work from home, families with young children or even pet owners who are concerned about their furry companions' safety during an installation. Lone Wolf Exteriors will discuss the best way to proceed at the beginning of any job, share their ideas with the customer and then proceed once all parties are in agreement.
Lone Wolf Exteriors provides customers access to the top roof, siding, window and door installers in the region, and the team is always ready to tackle new projects for their community. They work on residential projects throughout the state of Texas, and their commercial services are available nationwide. Customers may call Lone Wolf Exteriors today to learn more.